Maintenance Options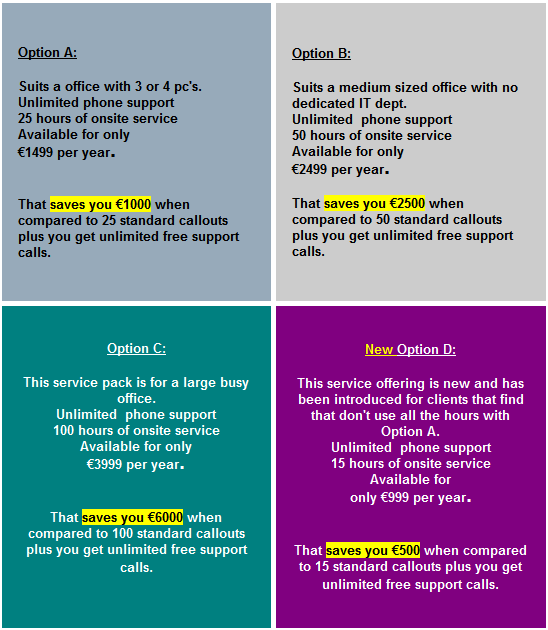 All labour prices are ex vat @ 13.5%.
Detailed maintenance statistics are just a click away on a dedicated secure login page. View your callouts, completed tasks and hours remaining on your contract.
Our prices are still the best available in Ireland so call us now and start saving money!
Scheduled on-site visits are available to assist with developing IT policies such as software auditing, standardisation, disaster recovery, upgrade implementation and roll-out, security policies for wide area networking and virus protection.
Our field engineers and consultants can work with your existing IT infrastructure or as a standalone unit. In essence each contract is tailored to meet your demands.
* Telephone calls, remote maintenance and onsite hours expire after one year and cannot be carried over.
* Ongoing qualification for remote maintenance and telephone support is dependant on a valid contract.
(A valid contract is a contract that is fully paid and whose hours have not expired)
If you have unused hours remaining at the end of each year, we suggest you use the remaining hours to have an engineer carry out virus checks on your PC's and perform other preventative maintenance duties on your systems.
Escalation Procedure when making a call for support.
| | |
| --- | --- |
| Steps | Notes |
| 1. Call Outsource IT to log the call and give as much detail about the problem as possible. | Most clients have a single person assigned for reporting IT issues. The more issues they report and troubleshoot the better they get. |
| 2. With the help of the client, I will try to resolve the issue over the phone. | The client MUST be willing to spend a reasonable amount of time assisting with the diagnostics by unplugging cables, reloading software, trying another PC or device etc. |
| 3. If the issue cannot be resolved over the phone, I will connect remotely to the affected equipment and try to resolve the problem. | This fixes 9/10 issues so is very efficient for the client and Outsource IT. |
| 4. If the problem cannot be resolved over the phone an on-site visit will be scheduled for the next working day. | Next business day calls are only guaranteed if the incident is logged before midday. |